Multilingual communities and global businesses have increased the demands of legal departments exponentially in the last couple of decades. As more small businesses reach out to international audiences, caseloads begin to pile up.
Law firms not only rely on language translation agencies and professional legal translators to produce high-quality and accurate content within fast turnaround times, but also require them to be precise and have an in-depth understanding of current legislations together with legal terminology. Consequently, working with an agency which specialises specifically in professional legal translation services can be extremely beneficial.
According to the British Council, over 10% of UK residents speak a language other than English at home. Although the number of immigrants arriving from EU countries has fallen since the referendum, there were still an estimated 250,000 arrivals in 2016.
It is often the case that a legal document submitted by a foreign national in the UK in support of an application requires a translation into English. The increase in multilingual forms, contracts, tenders and other legal documents is rising rapidly.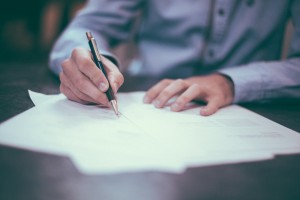 Types of legal documents that need translating
Language agencies, which specialise in providing legal translations, are often extremely useful to law firms, simply because they work with networks of linguists who are specifically qualified to translate legal documents. Additionally, legal linguists usually have background knowledge and a first-hand experience of the legal system, therefore are able to translate documents reliably.
There are multiple cases where the translation of foreign documents into English and vice-versa might be necessary. Below are some of the areas language translation services can assist law firms with:
Legal documents for immigration purposes
Copyright, patent and trademark
Business contracts for overseas transactions
Financial records involving foreign banks
Corporate documents i.e. T&C, warranty
Regulatory translation for businesses expanding overseas
International fraud claims
E-discovery for litigation claims
Exclusive certified translations
When foreign nationals and expatriates need to present documentation to the UK government authorities, it is often the case that the documents they have are in their native language. Before applications of this nature can be processed, the foreign documents need to be not only accurately translated, but then also officially certified.
Because there are several different forms of document certification within the translation industry, it can be quite unclear, especially for solicitors without any previous experience working with translation agencies, which form is most appropriate for their case.
Sworn translations involve a linguist signing an affidavit in the presence of a solicitor to confirm they have truthfully conveyed the text of a translation. When an official document has been translated, the translator should also provide a certificate of accuracy confirming the documents have been translated to the best of their knowledge and ability.
In instances when an overseas governmental authority, foreign court or trade registry requests a certified translation to be sworn by a professional linguist, they are called notary translations. A qualified linguist is asked to attend an office of a notary to sign and stamp a document of certificate.
When law firms in the UK are supplying documentation that has been translated from English to an overseas authority, translators have to follow an Apostille procedure. Apostille certificates are only required for countries that abide by The Hague Convention.
Apostille declarations are very similar to notary certifications. The only difference is that the document is sent to the Foreign and Commonwealth office for authorization and forwarded to the overseas department that requested a sworn certificate of translation.
Benefits of machine translations in legal sector
Law firms that require translations for multiple languages and international business disputes face steep challenges in relations to cost and efficiency. The introduction of machine translations for the discovery process has helped to significantly reduce costs.
In a field which requires transcriptions to be translated accurately, the idea of using translation machines can be met with derision. Nevertheless, solicitors can still benefit from translation firms that use technology to slash the amount of time it takes to translate thousands of documents manually.
For example, it is not unrealistic to expect a language translation service to provide same day delivery. Machine translation tools are capable of processing 20,000-words over a 24-hour period.
But machine translations are only one part of the process. Whilst technology is not always 100% accurate, artificial intelligence has improved the quality of machine learning. Subsequently, the majority of such translations are accurate and only need reading through by editors.
The second phase of translating bulk documents in an eDiscovery process is to return the rough translations to the solicitor so their discovery team can determine which documents will be helpful to build a case. The relevant documents will then be sent for a detailed translation to be undertaken by a qualified linguist that has experience translating for the legal sector.
In most cases, the machine translation process eliminates a sizeable percentage of documents that require translation. As a result, legal teams receive translated documents earlier and translation services don't cost the firm, or its clients, anywhere near as much as a fully-fledged manual transcript.
Furthermore, machine translations increase the confidentiality of a case. Professional translation agencies offer secure and confidential services and are happy to sign Non-Disclosure agreements (NDAs) when necessary, whilst tools found on the internet cannot match these privacy levels. Google, Bing and Microsoft all store text run through their translation machines in their memory bank of online data. Therefore, it is strongly advised never to use free online translation tools to interpret sensitive legal documents.
Whilst the purpose of storing information is used to help the technology companies improve their online translation tools, the data is accessible to third parties. Using a machine translation service with a professional language translation agency ensures legally binding documents are kept confidential.
Machine translations improve eDiscovery
Although machine translation still requires human intervention to complete an accurate document, in some circumstances, technology performs better than humans.
There are times when fraudulent activity in legal cases involving international businesses has been missed by prosecutors. Firms that create a language of corruption use keywords in phrases, sayings and idioms to hide the true meaning.
Machine learning tools that use artificial intelligence are much more proficient in identifying keywords than humans are. And cracking keywords can blow a case wide open. As an English speaking solicitor attempting to build a case, identifying potential corruption is practically impossible.
With governments looking to ramp up anti-corruption efforts and enforce global compliance, the ability of machine learning tools to identify tricks and traits used in 'secret' language could prove to be invaluable.
According to numerous newspaper reports, the number of fraudulent contracts between English-speaking companies and foreign companies is also increasing.
It is not unusual for foreign companies to alter the terms of business in the English translation. In foreign courts, the contract that is used is always the native translations, so foreign investors always lose in cases of corruption. Even Google uses professional translation services when dealing with international clients rather than their own translation machine.
Law firms should also be preparing for Brexit. When Britain leaves the EU, existing trade agreements will need revising. This could potentially lead to a high volume of business documentation that needs to be re-written in a foreign language.
Interpreters
Language translation services don't only offer written translations, they also provide interpreters to attend interviews, meetings and court cases. The ability to communicate proficiently with your client enables you to deliver a better service and a stronger case.
The role of an interpreter is to facilitate the communication between a solicitor and their client. Although interpreters are not responsible for what the client tells you, they can help to develop a better understanding between both parties. This helps to create a level of trust between solicitor and client which makes the environment feel less intimidating.
When engaging the service of a professional interpreter, look for a linguist that is qualified as a legal interpreter. Sometimes, a linguist needs to have a basic understanding of the law so they can field questions a foreigner might have.
The global community is becoming more widespread and with the high number of immigrants settling in the UK, legal caseloads involving overseas clients will continue to increase. Therefore, a language translation agency that is equipped to handle a high volume of legal translations is an important partner for law firms to have on your team.